In 1987, nearing the end of the S12 Silvia's lifespan in Japan, Nissan announced a lineup of 3 special edition models for sale to the public. Done in a similar fashion to Toyota releasing the Black Edition Sprinter towards the end of the AE86's build life, the main objective was to boost sales before the release of the newer S13 Silvia. The forerunner of this model lineup was the Twincam Turbo Full White RS-X, which stood above the lower specced models the Full White R-X and R-X White Select.

Available in only coupe form and painted all white it differed from the standard Japanese S12 lineup which sported two-tone paint schemes. The Full White RS-X also has many subtle exterior trim differences, a black themed interior and full JBL sound system. It received the new PLASMA CA18DET power plant and was available in both manual and automatic transmissions. A Nissan press release stated their intention to build 150 Full White RS-X's, however records show that only 90 models rolled off the production line.

I purchased my Full White RS-X in November 2009 with 74,000km's on the odometer. The car had recently been imported to Australia and was in need of compliance, engineering and registration. Unfortunately it was in less that desirable shape when I bought it, with a bit of exterior damage and small amounts of rust. Luckily though the interior and engine were in great condition and the car was completely unmodified apart from a set of aftermarket wheels. This would be the perfect project car for me.


Over the last few years this car has become my restoration project, I have slowly fixed it up and gathered the necessary parts to bring it back to its former glory. I am now the first Australian registered owner of this car and as far as I know it's the only Full White RS-X in the country. I have detailed every step of my journey with this car in my extensive build thread.
Latest Specifications: http://www.FullWhite.net/
Page 1: Introduction - Restoration Begins - OEM Silvia Lace Seat Covers
Page 2: OEM Headlight Wipers/Washers - OEM Passenger Footrest - Compliance Engineering
Page 3: 80,000km's - Registration - S13 Coilovers & Suspension Work
Page 4: CAZMAN Adjustable Castor Rods - Royal Key - Random Detail Photo's
Page 5: New Parts Arrive - NISMO S12 Strut Brace
Page 6: Body Preperation for Paint - Certificate of Exemption - Decal Reproduction
Page 7: My 3 JDM S12 Silvias - Body Work Progress
Page 8: Car is Painted! - NISMO Strut Brace Fitted
Page 9: 80's Silvia Stickers - Before & After Photo's - Silvia Goes to Sydney
Page 10: Silvia in the Blue Mountains - Work Equip 03's
Page 11: OEM JDM Fog Lights - Stiff Diff Photo Shoot - Showcased - NISMO R6 Wheels Arrive - Wheels Painted
Page 12: Wheels & Tyres Fitted - OEM JDM Rain Visors - Broadway Mirror
Page 13: OEM MKII Rear Spoiler - Roadtrip Back to Adelaide - NISMO Auto Louver Fog Lights
Page 14: OEM Radio & Equalizer - NISMO Fog Lights Fitted
Page 15: NISMO Fog Lights Wired In - All Japan Day 2013
Original Post 08/07/10
Hi,
My name is Matt.
I have owned four S12's in my lifetime, the first one was a 1984 Australian model Nissan Gazelle. I bought this back in 2002, did a few bits and pieces to it before selling it on. This car got me hooked on S12's, I fell in love with them. Since this Gazelle I have also owned three Japanese import S12's, a 1985 Nissan Silvia R-X.G, a 1984 Nissan Silvia Turbo RS-X, and this car a 1987 Nissan Silvia Twin Cam Turbo Full White RS-X. Yes, it is a really long name for a car!
I always had a soft spot for the MKII JDM Silvia range, there was something about the redesigned look of the car that I was attracted to. But not being easily available in Australia, I figured owning a MKII would always be a fantasy. Enter my friend Jack. He had purchased a MKII Silvia from an importer, the car was fresh off the boat, and now resided in Jack's garage uncomplied and unable to be driven. I visited Jack a few times and we would stand around looking at the car for a long time, I noticed the Full White RS-X markings on the doors, but never looked further into it. Late last year Jack informed me he was leaving for the UK to chase a career in photography, and asked if I would like to buy his car. I jumped at the opportunity, I really wanted it. I drove around to Jacks place and arranged everything to buy the car, got all the parts and paperwork together, and said I would be back in the next few days to pick it up.
I picked up the car a couple of days later, and drove it on permit to its new home at my girlfriends house. It sat in a dark shed whilst I started gathering the parts needed to get it complied to Australian standards and registered for South Australian roads. During this process I started to look further into what I had gotten my hands on. The Full White RS-X was something I had never heard of before, and something I had never heard anybody else mention. After much hunting, I found some material. In December 2009 I posted
this article about the Full White RS-X
, exposing a lot of information about the little known about and mysterious version of the S12 lineup. I also used a family member (Thanks Laura!!) in Japan to help me track down the set of Nissan sales brochures containing information on the Full White RS-X. This is the dedicated brochure to the Full White RS-X: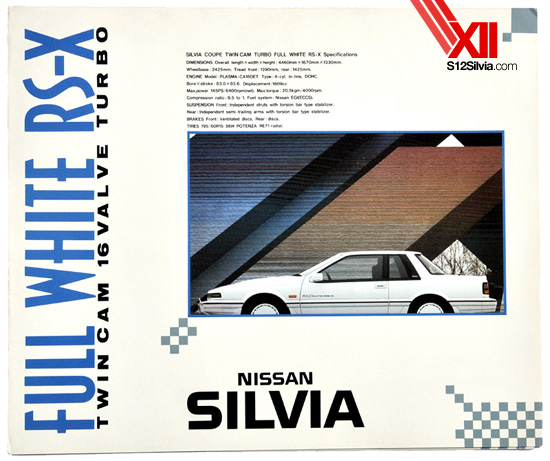 And the MKII Nissan Silvia brochure, revised to contain information about the new Full White addition: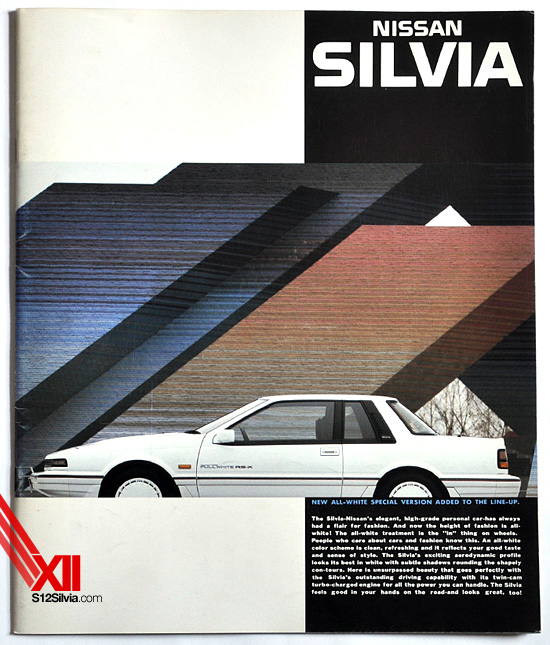 More information and download link on the dedicated Full White brochure is
available here
, and the revised MKII full range brochure is
available here
.
I have also written letters to Nissan Japan for more information about the car and to find out production numbers. But each time the responses have been not very helpful. I know this is a rare version of the S12, I would like to know how rare and how many were made. The search continues. I have still only managed to track down 2 other Full White RS-X's. One belongs to a Japanese guy who has a very clean example, and the other one is in the United Kingdom, i have been in touch with the owner about his car.
Ok, so more about my car...
The breed of this car is authenticated in it's model number printed on the build plate. All second generation MKII Silvia's RS-X coupe's received the model number BS12HFT. The Full White RS-X was printed with the model number BS12HFT
X
, as stated in the brochures.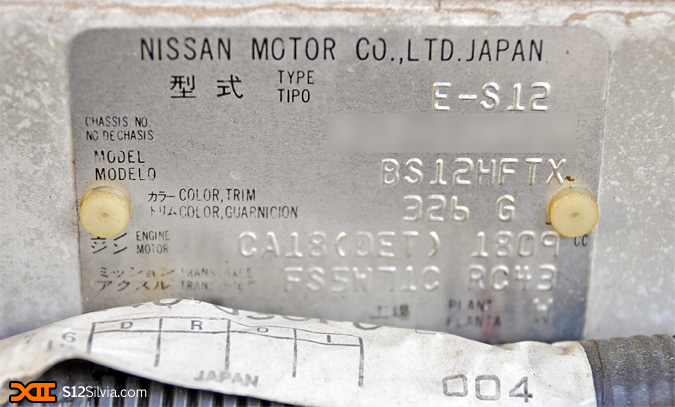 This car was built in July 1987, and made it to Australia on a boat and into my hands on the 22nd of November 2009. The condition of the car is not the best. There was rust in one of the quarter panels and it was a little dented up, the paintwork and decals were also a bit worn out. The upside was that the car only had 79,000km's on the clock, and the interior and engine bay were completely original and in great condition. This would be a great restoration project for me, something I have always wanted to tackle. Some pics from day 1...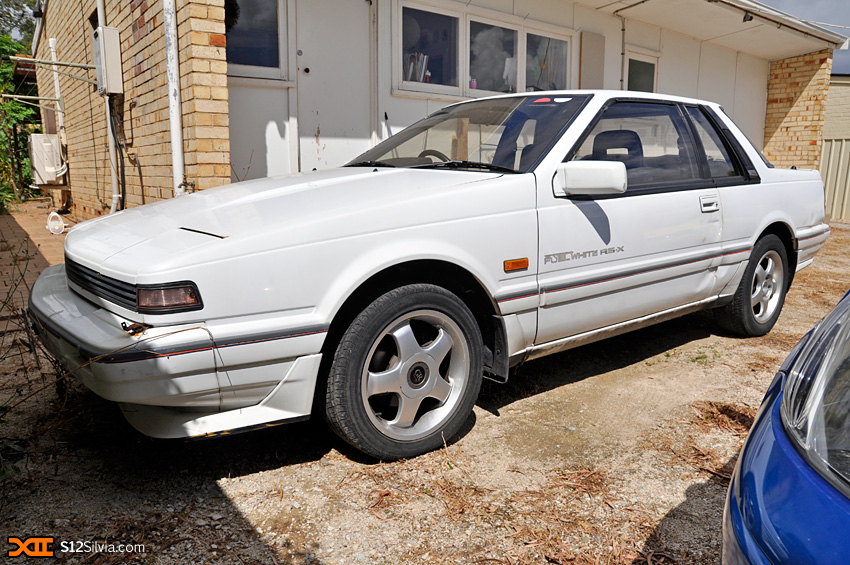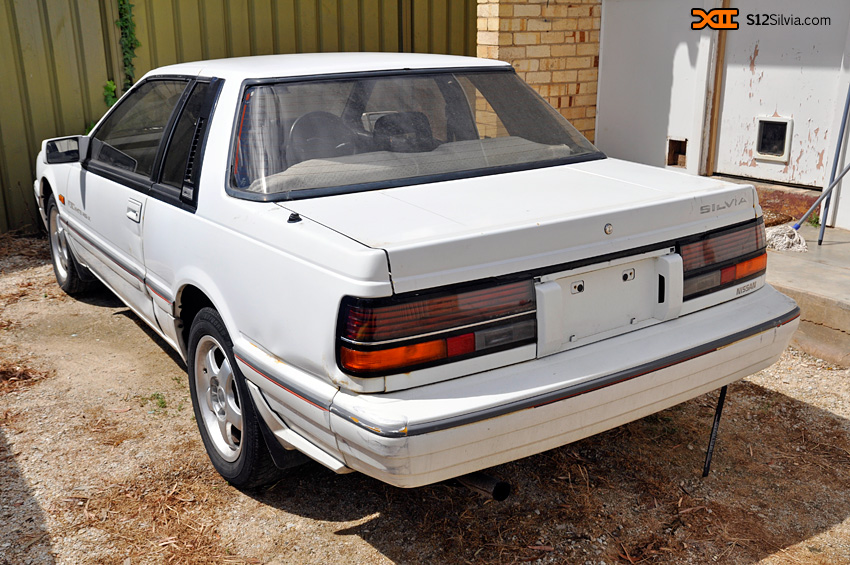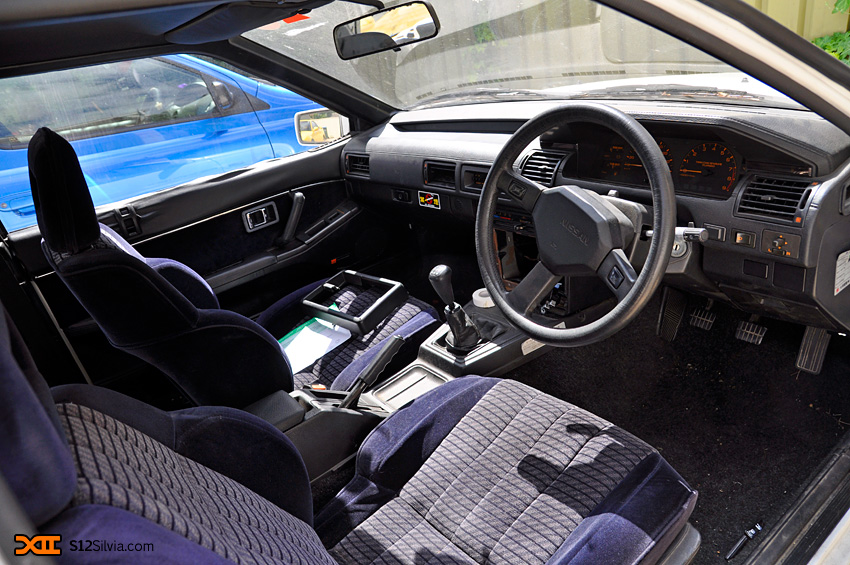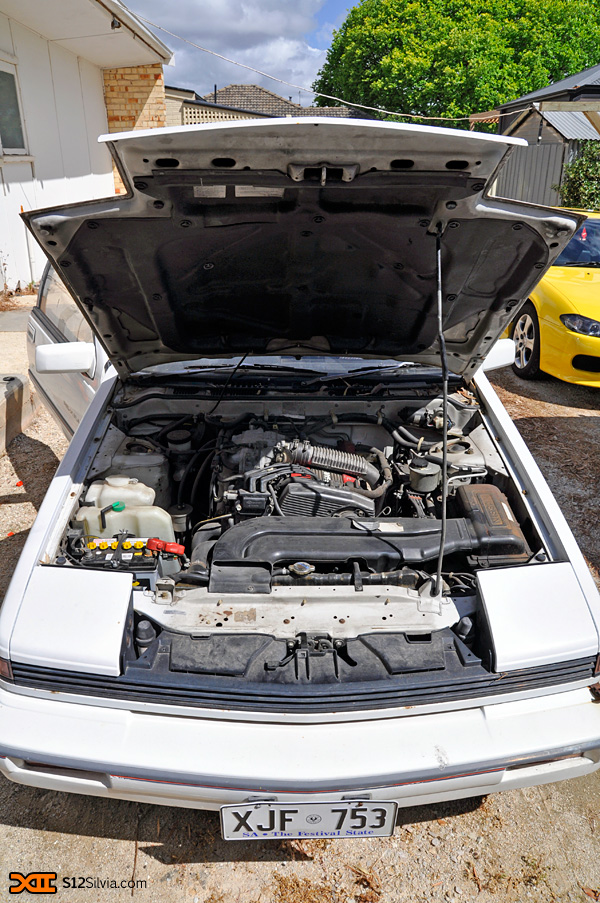 In February this year real work started on getting this RS-X sorted. I organised a permit and drove the car around to Wil's place and we spent a solid day on the car. We started off up at U-Pull-It Lonsdale and pulled a clean door and front quarter off a wrecked white S12 coupe. We took the new parts to Wil's house and started the transfer. The door card and all the internals were swapped into the fresh door, and the front quarter was replaced so that the rusted out one could be ditched. We then ate a BBQ and relaxed.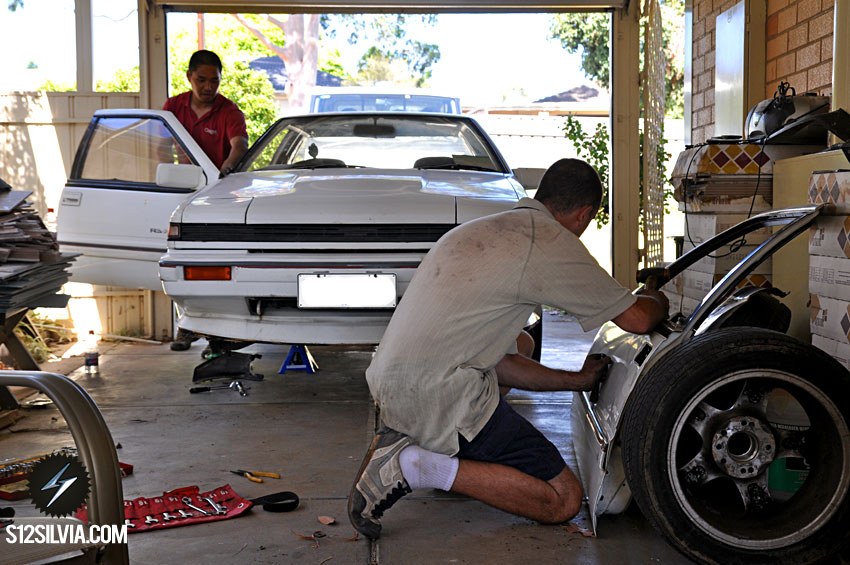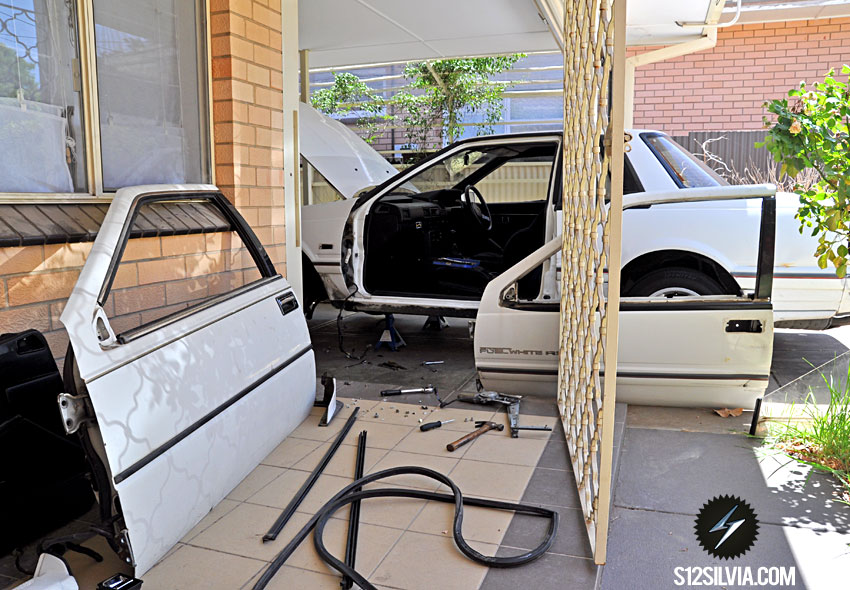 http://s12silvia.com...23-work-begins/
I then went and purchased all the Nolathane bushes needed to freshen up all the old ones. I did most of the bushes myself, however I did not have a press to get the old ones out of the lower control arms and trailing arms, so this was done at a workshop along with a few other bits.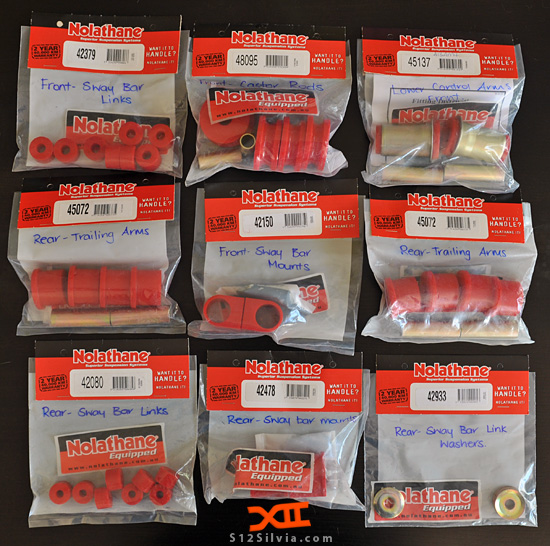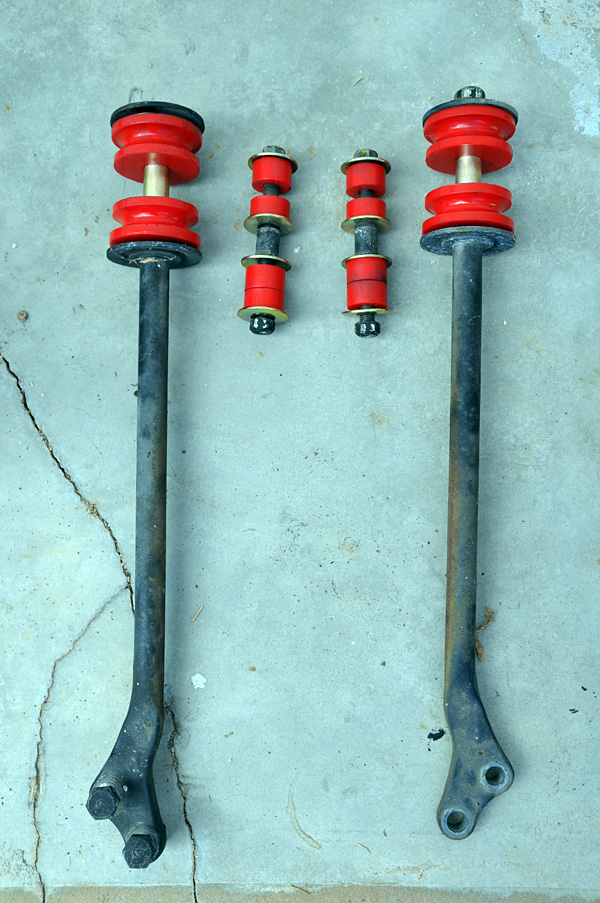 Whist under the car I also noticed one of the lower control arms was bent. Luckily Wil had a spare one lying around, so it was around to his place once again to pick it up. Got back to the car and installed the new part.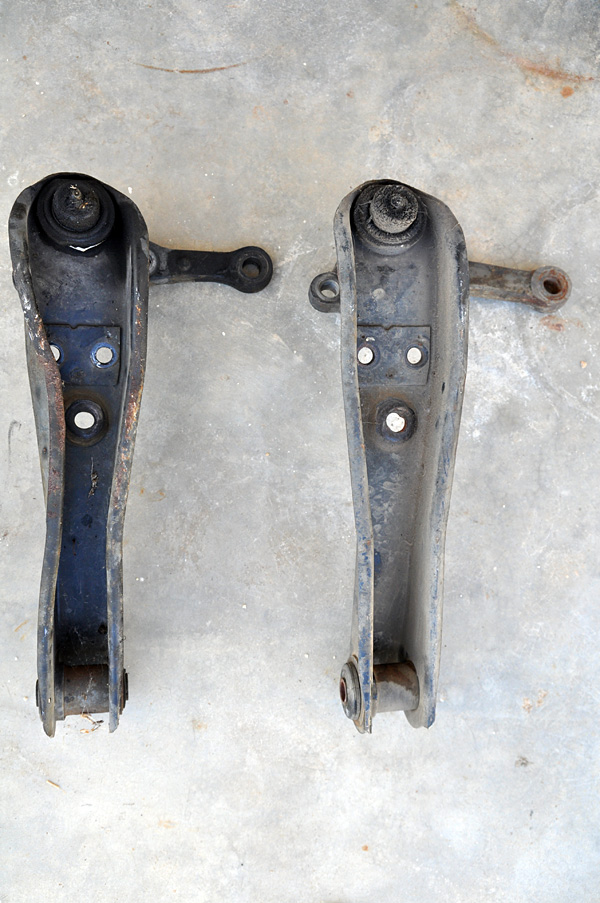 I have since installed many more fresh parts on the car in readiness for inspection. New clutch slave cylinder, new brake rotors all round, new ball joints, every bush and boot under the car has been replaced with new ones, and new tie rods. The car also got some new tyres and was given a much needed wheel alignment.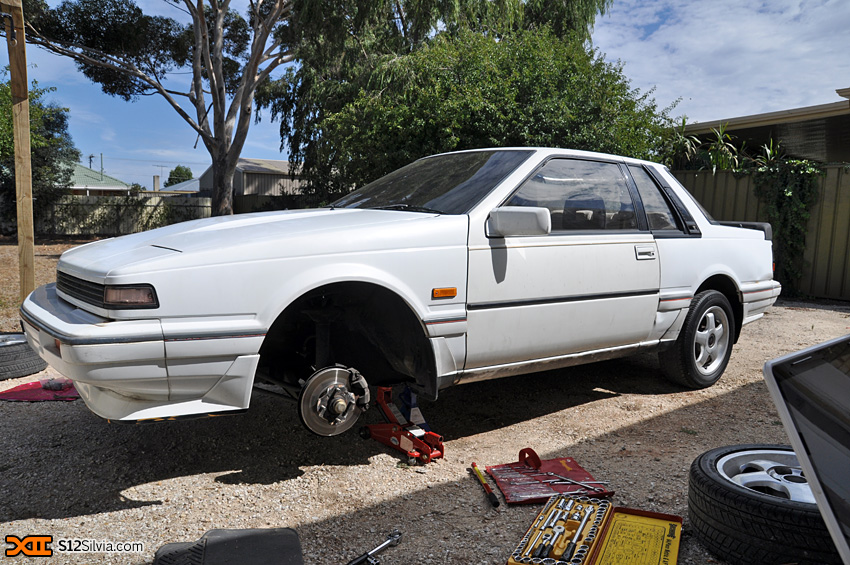 The car is getting ready to go to an engineer in the next week to get side intrusion bars, rear passenger seatbelts, and rear child restraint points installed. The engineer must install and sign off on these for compliance. Hopefully this goes well, and I can have it registered and driving soon. Future plans will be fitting my S13 coilover suspension setup, and then straight onto fixing up the bodywork and applying a fresh lick of paint.
A couple more pictures for good measure....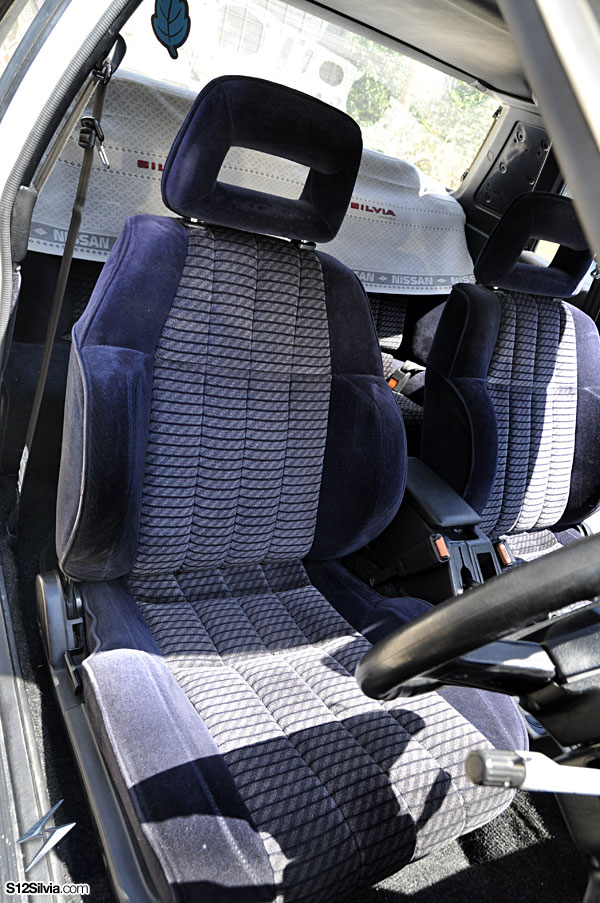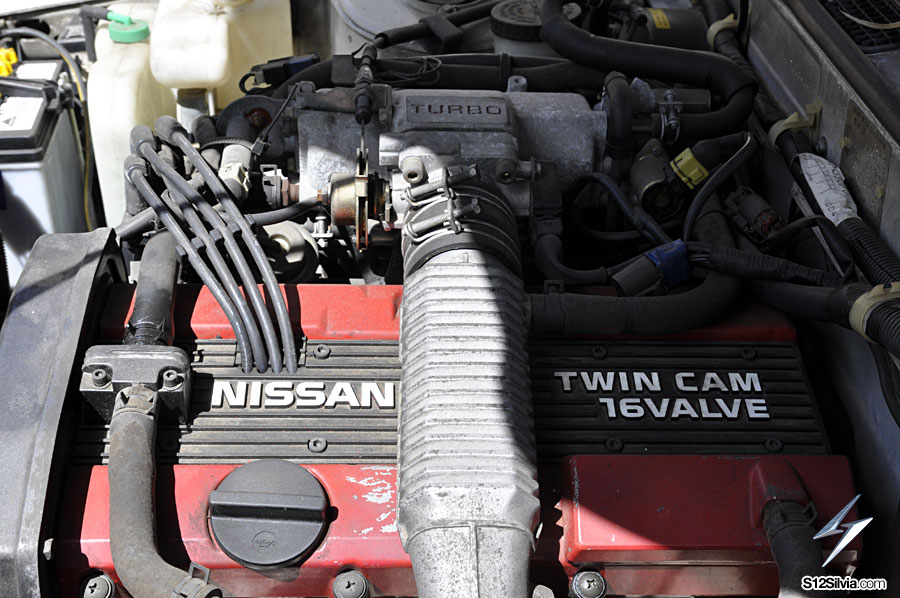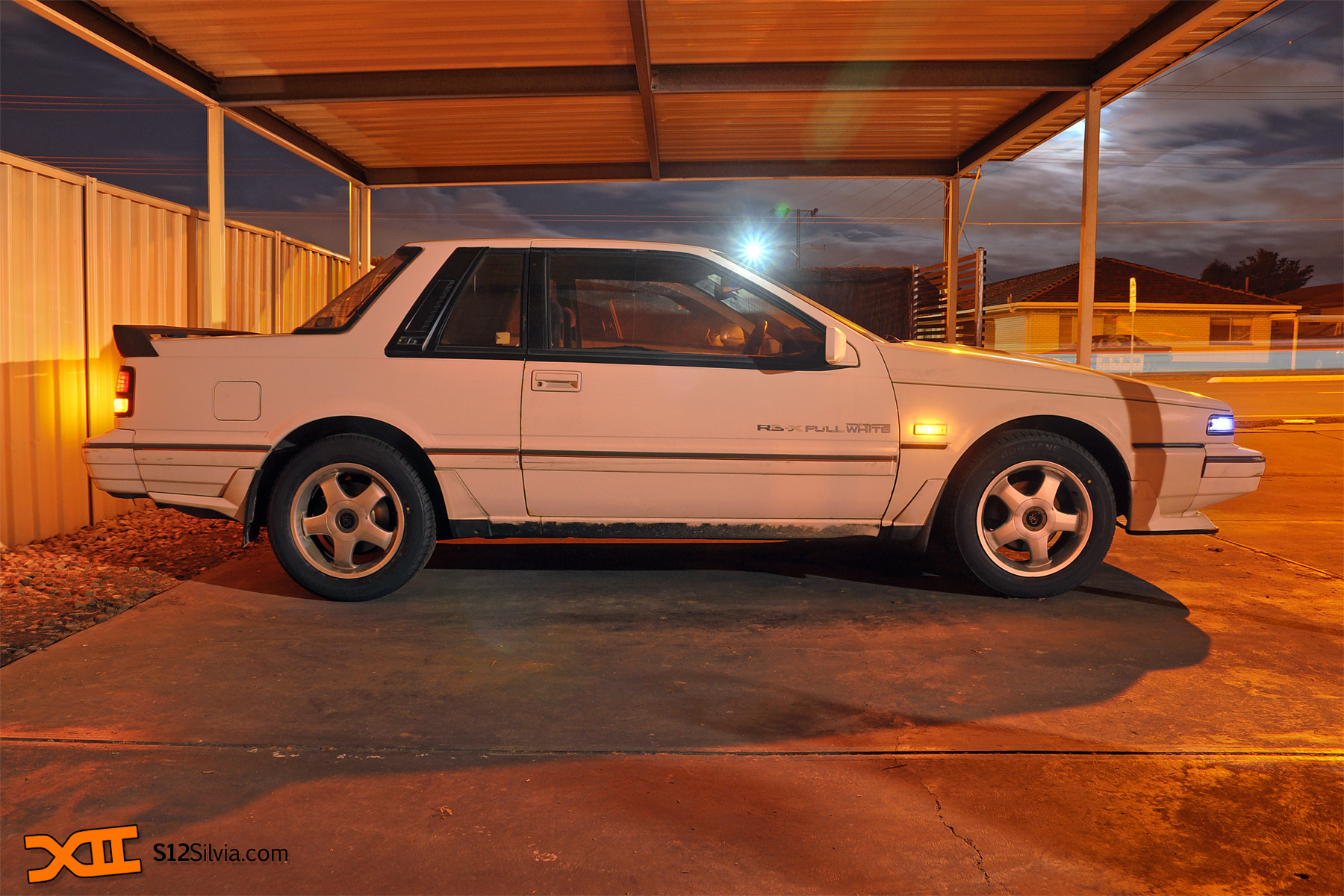 Big thanks to my girlfriend Sarah for letting me store the car at her house for so long, and understanding my passion for S12's in general. To Wil, cheers for all the help along the way mate, car wouldn't be where it is without your contribution. To people for helping me out with parts I needed, from the US, Japan, and around Australia. To Barry my mechanic, awesome work and somebody that also understands the passion for 80's Nissans.
Thanks for reading my story. I hope to provide many more updates along my journey to restoring this rare piece of S12 to its former glory.
Matt.