Posted by
Draconis
, in
Drivers Blogs
17 June 2012 -





· 1,080 views

s12

,

silvia

,

drifting

,

midwest

and 6 more...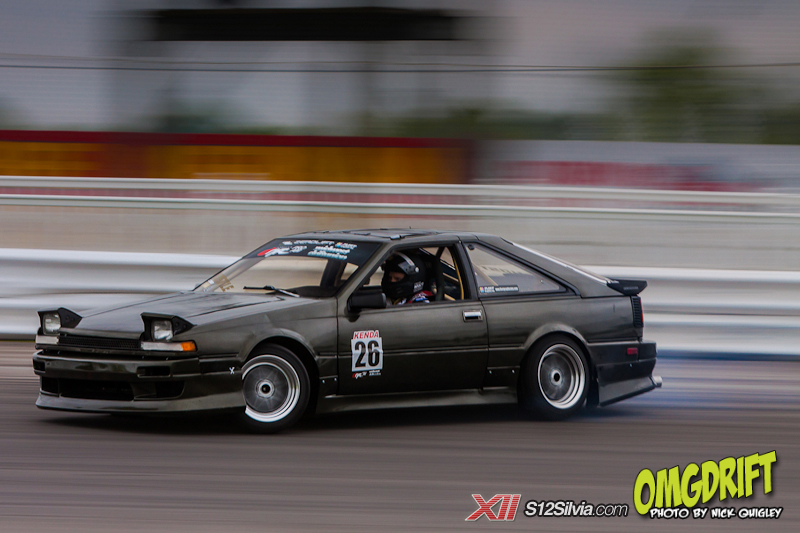 What's better than seeing a car given free rein on a designated course or track? Not a whole lot really. There are some who may say the streets, but being that it is both unsafe and illegal, we really don't suggest that type of driving. And then there are those who prefer an expensive paperweight or a trophy wife that stays in the carport all year, and they would be right for not having any interest in driving. But for the rest of us, and we're talking about all those who consider themselves as petrol heads, there is oh so much more to a car. To fill one's senses with a car burning rubber and the intoxication of speed... Well it is a drug that we are all addicted to and seriously, it is by far one of the best ways we think one could do with a vehicle.
As part of the Driver's Blog series, and one that has been a bit overdue, we pick up with a bloke from the Midwest of the US. He's already been making the rounds online thanks to Nick Quigley, and thanks to some really great shots, there has been much interest generated about this car and driver who suddenly appeared. Almost as if we were seeing a mirage, it is all too sudden that we were seeing an S12 hitting the in Formula D's Pro Am series. Only in his second year and only five events for experience, Devin Callanhan has shown much promise already and was more than willing to sit down with us so we could get a glimpse at who he was and just how he got to where he is today.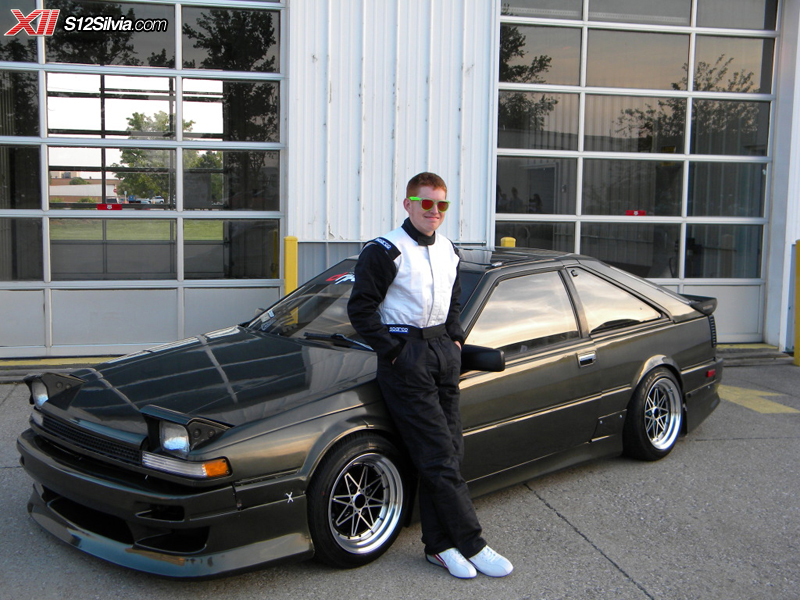 S12Silvia.com:
Good day, Devin. Thanks for doing this as we know that between juggling a regular life, hitting the track, and wrenching on the car, it leaves for virtually no down time and what little down time you have, spending it on the computer is not necessarily the favoured activity.
First off, we already know that you are into drifting as your chosen sport, but what was the main influence that got you into it?
Devin Callahan:
I have always been into cars. What got me into drifting was when I met up with this car club in town named Hostile. I started hanging out with them and tagged along to a Tennessee Drift event. After that, I was hooked.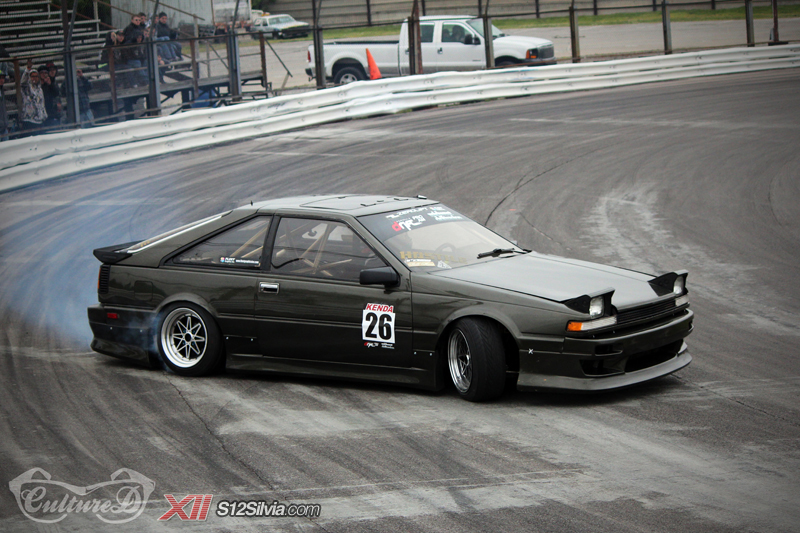 S12Silvia.com:
What are your goals with the S12 and in competitive drifting? What have you accomplished so far and where do you see yourself hopefully at the beginning of next season?
Devin:
I started drifting when I was 18 and currently I am only 20 years old. I am working towards being competitive in MDU pro am and getting my Formula D license and go on from there. So far after the first event of my second year and only my 5
th
event that I have ever drifted in I finished 8
th
and I'm sitting 9
th
in points so far for the season.
S12Silvia.com:
So, the S12. A wonderful, capable, and yet challenging chassis to take to the track. Why do you compete in an S12?
Devin:
I chose the S12 because it was different and I have always liked the 80s look. Plus you don't see S12s on the track much.
S12Silvia.com:
Can you give us some history on your S12 by chance? How you obtained it, what attracted you to it originally, and why have you stuck with it despite the disadvantages it has?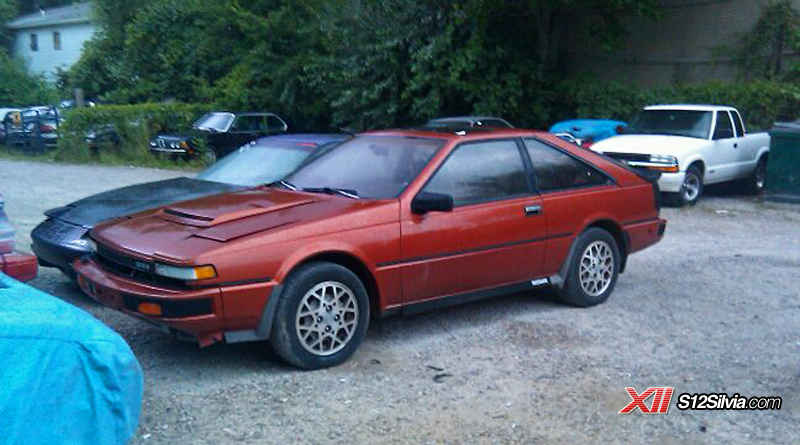 Devin:
I had just graduated high school and I was really wanting to build my own car, so I was looking at cars to buy and I had found this original 84 turbo S12 in Indianapolis. I took my graduation money and drove 3 hours away and picked the car up for $600. It was the first car that I had bought with my own money and I didn't tell my parents about it for several months because I thought they would be angry that I had already spent all my graduation money on a old non-running car. I was so happy to have my own project car. After that everything just seemed to fall into place. It had the single cam CA18ET turbo engine that was pretty rough, of which my friends talked me out of keeping it and ended up helping me source a CA18det for it. While the engine was out, we tubbed the front end, installed a complete S13 chassis harness, full S13 front suspension and brakes, chose the color for the car (Nissan canteen green), and sprayed the engine bay. I stuck with the S12 because I wanted to do something unique that you didn't see all the time and I knew it would be cool and fun when I was done with it.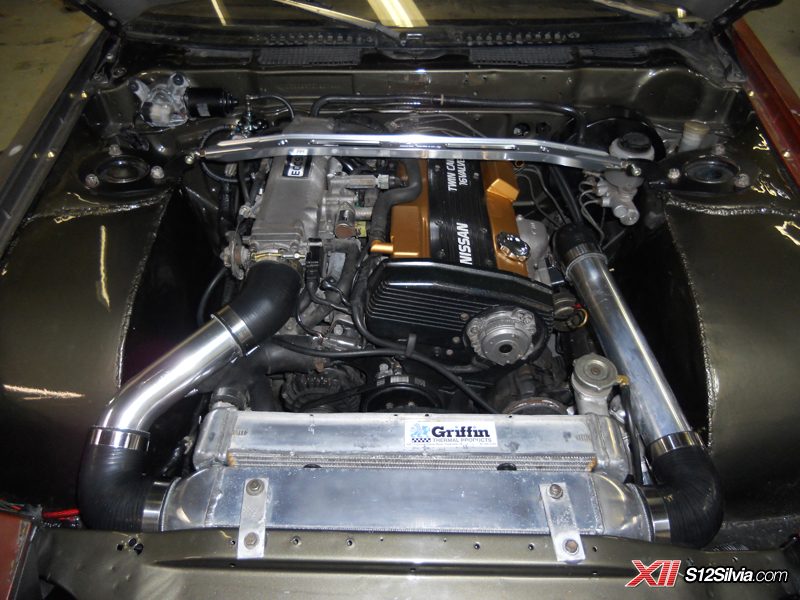 S12Silvia.com:
Speaking about the disadvantages that the S12 has, especially when compared to its successor the S13, it has been prove that the S12 is quite a versatile car. With the amount of power plant choices and suspension modifications, it's rather amazing. Despite that, there are many regulations that exist in the drifting world. What are the things that are the largest drawbacks to the car in your experience while drifting so far? What have you done to compensate for issue?
Devin:
I knew right away that the downfall of the car was the available aftermarket suspension for it. Before I started drifting the car, I set to work on the suspension and with the help of those at the shop I work at, we made all the necessary modifications to fit the full S13 front suspension and coilovers in the rear.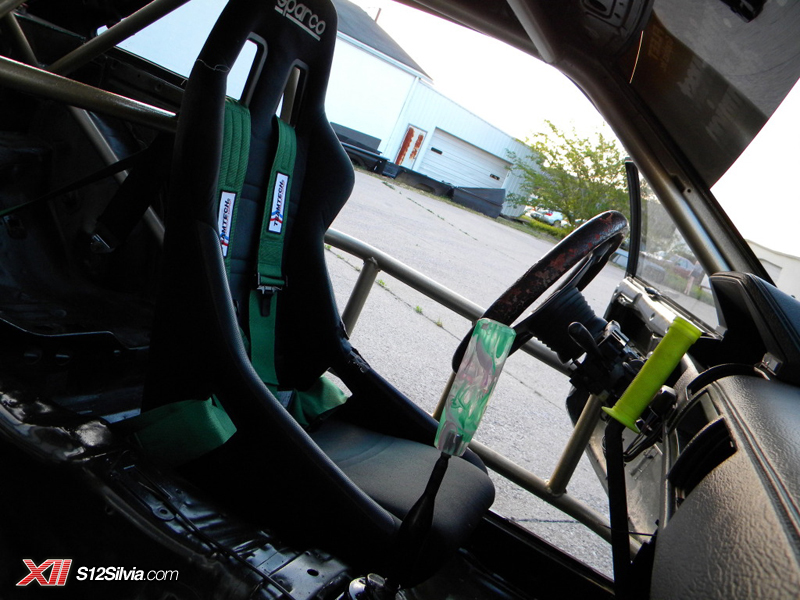 S12Silvia.com:
Being that you had a very intimate role with the modification of the car, can you tell us some of the technical aspects of it?
Devin:
Everything you see on the car is custom and has been done by me with a lot of help from the guys at HC Auto. It took a little over 2 years to get the car to where it is today. It has been a long process of mods and changing, making it a little better every time. Here is a list of the cars mods. Full front tubs, custom S13 front knuckles, s13 lca's, s13 rack and pinion, s13 megan outer tie rods, and modified steering column, J30 brakes, S14 tension rod brackets, CA18det swap with S13 Sr20 gt25 turbo, solid engine and trans mounts, centerforce dual friction clutch, fuel cell, walbro inline fuel pump, custom intercooler setup and Griffin radiator, Yonaka s13 coilovers, custom hydro ebrake, welded diff, full roll cage built by me and HC Auto, S13 coupe Origin body kit, Varrosten wheels V2 15x8 -10 front and rear, Sparco bucket seat, Teamtech harness and all rubber lines replaced with stainless steel braided lines.
S12Silvia.com:
It is indeed quite a list and one that is to be expected. Of them, what do you feel is your most favoured modification you have done to your car? What has this modification done for you in your quest in competitive drifting?
Devin:
It's really a tossup. I love the engine, the cage, and the suspension. I would have to say the one that helped me the most is the custom knuckles that my friends and I made and installed on my car two days before this past drift event (April 21st). The knuckles help with the overall control of the car. They made the steering a lot better and helped with transitions and angle.
S12Silvia.com:
Tell us, what has been some of your experiences with your car and your choice of racing?
Devin:
I will never forget the first event that I ever drifted in with this car back in February of 2010. We had just gotten the car running right the day before, tossed a random back seat in it, piled three people in, and made a 3-hour trip to Nashville. We made the trip with no heat, no spare tire (a truck was meeting us later with all of the spares). We made it all the way down there and checked in the hotel. We left to go eat and popped a tire. I had to borrow money and pull the rim off, find a ride and head to the nearest store that sells tires and would mount it around 8 o'clock at night. The next morning the drift event was a success, the car did great even though it poured rain most of the day. On the way home I popped another tire going full speed on the highway. This was just north of Nashville in the hills and I had semis beside me so I had to dip off to the inside median. As soon as I stopped two cars flew past in the grass to avoid hitting me and scared the hell outta me. Then I had to wait for the tire truck to turn around and bring me a spare. The rest of the trip home went fine.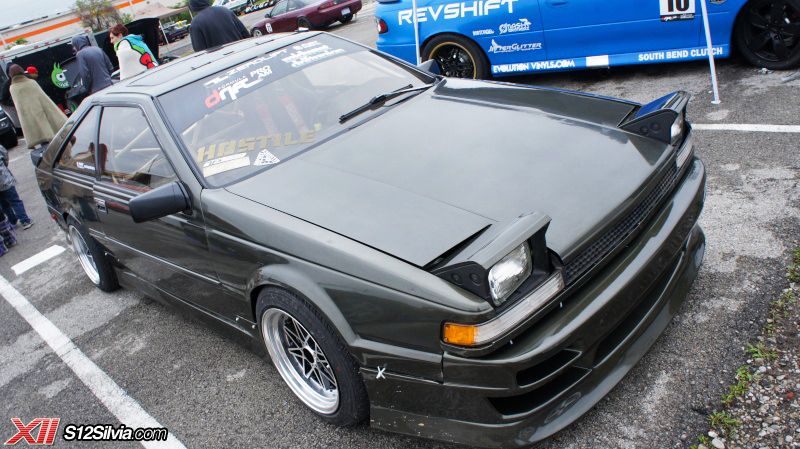 S12Silvia.com:
I have to say, that is one of the more unexpected trips I've ever heard when it comes to going to and from a drifting event. Only shows the things we all go through for the sport.
Now that you have driven the S12 for a length of time, one can be sure that you will end up driving another chassis at some point in time. You may have already driven different chassis in order to gain more track time or for the experience in understanding how different it is sure that you may have driven another chassis for some amount of time but, would you happen to swap chassis at some point? And assuming you do swap to a different chassis, which is your preferred chassis?
Devin:
I love the S12 and I own 2 "extra" ones so I'll be good for awhile. Other cars that I would consider racing would be an SC300, an S14, and I've really had my eye on a half finished S13 Silcamino project that's been sitting at the shop for a few years now.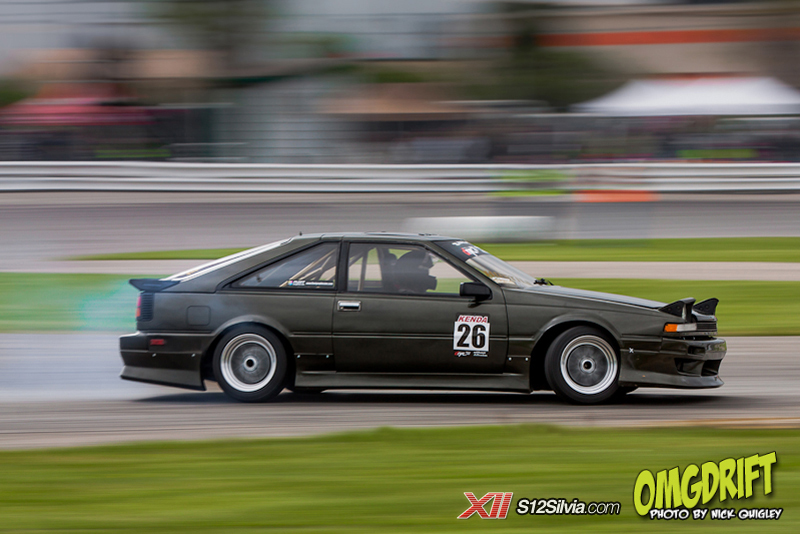 S12Silvia.com:
We've seen some awesome pictures from our friends over at OMGDrift.com of you hitting the track hard, which heaps of people love to see of course. Can you walk us through what it was like on that day? The successes, setbacks, and everything in between.
Devin:
I had no idea how the car was going to react to all of the new mods, the cage, the knuckles, new wheels, tires, and hydro ebrake. I got the car all put back together at 3am the morning of the event and had the car loaded on the trailer and on the road by 4:30am. A friend drove so I could get an hour of sleep before we made it to the drivers meeting at 8am. The car passed tech inspection and I started hitting the track and getting a feel for the car. It took me a bit to get used to it but it felt great, I fell in love with my S12 all over again. I had a few issues with the MAF sensor and had to switch it out. Other than that it was great. I kept pushing the car harder and harder and it was handling every bit of it. I felt I did average during practice. During the first qualifying run I was hitting every turn and getting all the clipping points good then got off my line and almost spun out, I was able to save it but I did fall out of a drift. On my next qualifying run I knew I had to show the judges something special. I gathered my wits and just went out there and had fun with it. It was the best run of my life. I guess the judges noticed and I qualified in the 8
th
spot. During competition I got a "by" cause the guy that was supposed to run against me did not have a cage. My first competition tandem run they put me against Magic Mike Pollard who is a very experienced drifter. I have to admit I was nervous. I have never ran tandem with a car that fast with a driver at that skill level. His car instantly pulled out in front of me. He entered the drift earlier than I had on my previous runs, it threw me off, which made me initiate too early, and the car understeered, which in turn caused me to tap the wall with the front corner of my car. The damage was minimal with a bent inner tie rod, a dent in the fender and a scuffed up wheel but it was enough to keep me from going on in the competition. It was all a great learning experience and my car will be ready for the next event.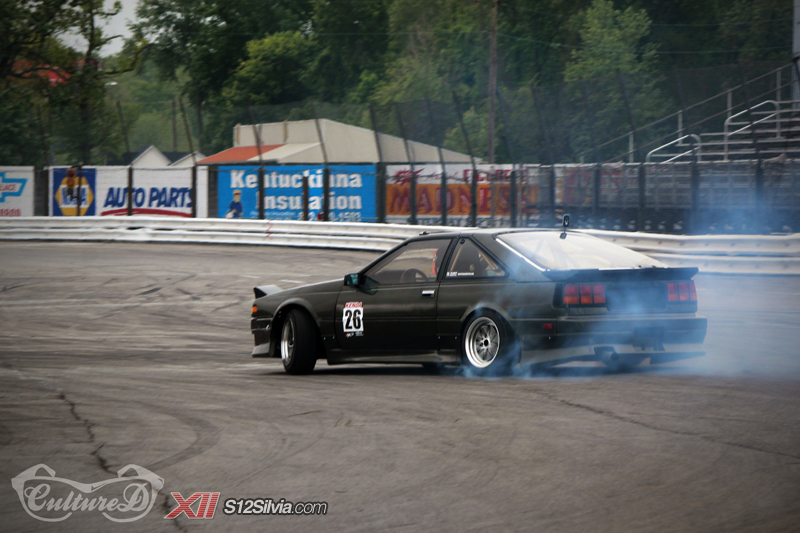 S12Silvia.com:
You've mentioned that you've done a lot of the work but with much assistance from those at the shop you work at and many of your friends. Is there anyone you would like to thank?
Devin:
I would like to thank my girlfriend Alex for putting up with me and all of the late nights at the shop, my parents for being supportive and helping in any way they could, and HC Auto for giving me a place and tools to work on the car. I also couldn't have done any of this without help from all of the guys at Hostile. They pushed me to do a lot of this and helped with a lot of knowledge and fabrication.
S12Silvia.com:
Thanks so much for doing this and we appreciate it. We look forward to watching you throughout the remaining of the season. Best of luck to you in Round 2 on July 7th and we are really wanting to see some more shots and hopefully movement up the rankings.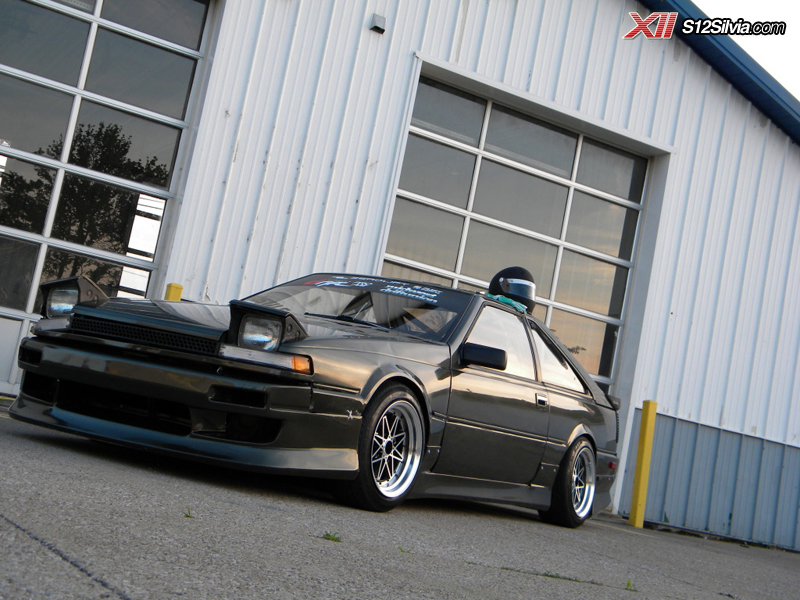 We would like to thank OMGDrift.com for their collaboration with this blog. Be sure to check out OMGDrift.com for more awesome drift media! And for updates about those in the Midwest like Devin, be sure to check out Midwest Drift Union.
Photo credit goes to Nick Quigley of OMGDrift.com and Dane Wittig of Culture D.