0





For the User
Posted by
Draconis
, in
Randoms
25 May 2012 · 535 views

S12Silvia.com... A revolutionary force that has been changing the face of the S12 community and the way the greater automotive/import community views this once forgotten chassis. For the past two years, S12Silvia.com has been scouring and cataloging much information and documentation to share with the S12 community. In addition to creating such an ever growing and expansive library, S12Silvia.com has also been hard at work featuring many S12s that have become icons and a source of inspiration for many, whether they are owners of an S12 chassis or not. But S12Silvia.com has not stopped there. There have been much focus on those who make up the S12 community. By putting the spotlight on the Founders of the many S12 dedicated sites to those who take their cars out on the track and use the car for what it was destined to be for in our Driver's Blog series, S12Silvia.com has grown and is seeking to display the whole of the S12 community in a manner not done before.
With so much success and winning over fans spanning the globe, S12Silvia.com is not stopping as it continues its evolution exploring more concepts all the while aiming at those who make up the community: The User.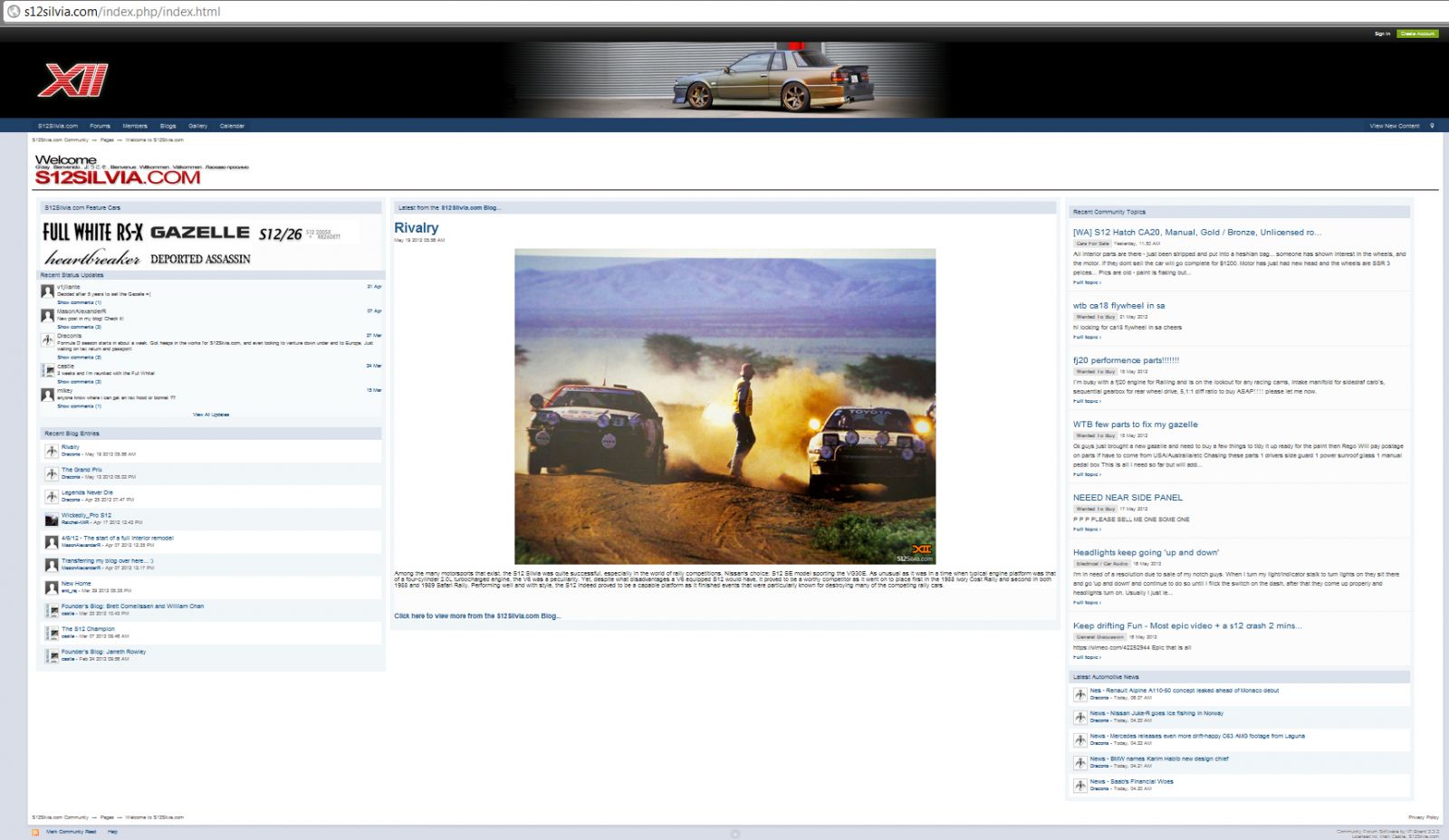 It is because of this focus on enabling the user and have each member become a more active force in the creation of S12Silvia.com, we have opened up many new sections within the site while at the same time redesigning the front page so that it displays more information and serves as a more comprehensive dashboard so anyone can gain a vantage point of what has been happening without too much trouble.
The following is a breakdown of the new front-page layout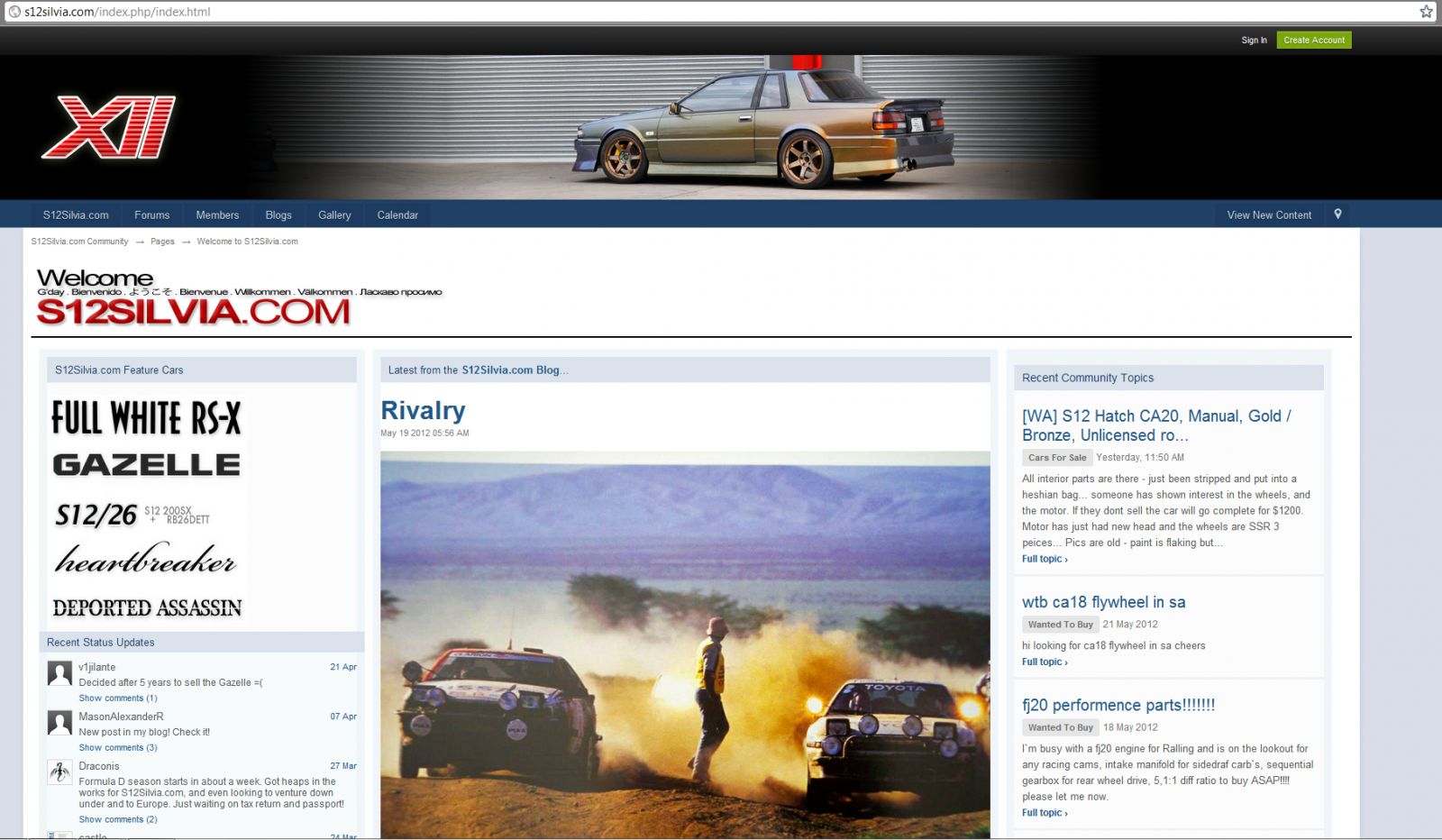 S12Silvia.com Feature Cars
In the right-hand corner are our Featured Cars quick link access port. Featuring cars from around the world and displaying those that are of high repute, these cars have been ground breaking in their own fashion have stood the test of time as they become focal points for those in both the S12 community and the automotive scene.
Recent Status Updates
This is where you can see what other members are thinking, sharing, and highlighting. Each member has the ability to update his or her status to share with the S12Silvia.com Community. A similar status update system that can update in real time as is utilized on other social media sites.
Latest from the S12Silvia.com Blog...
Yes, this is where all the blogs published by the S12Silvia.com staff are displayed. Front and centre, S12Silvia.com's blogs that have changed the way many look at the S12 chassis continues bringing what viewers love to read. With no end in site, these blogs have surely proven to exceed all expectations in diversity, quality, and finality.
Recent Community Topics
This is where one can see what topics have been most recently posted within S12Silvia.com's community. Without having to review multiple sections or reading just titles, this section displays the last seven topics that have been posted to the Community. Not just highlighting what topics have been recently posted, each topic has the first bit of text displayed so one can get an idea as to what the post is about.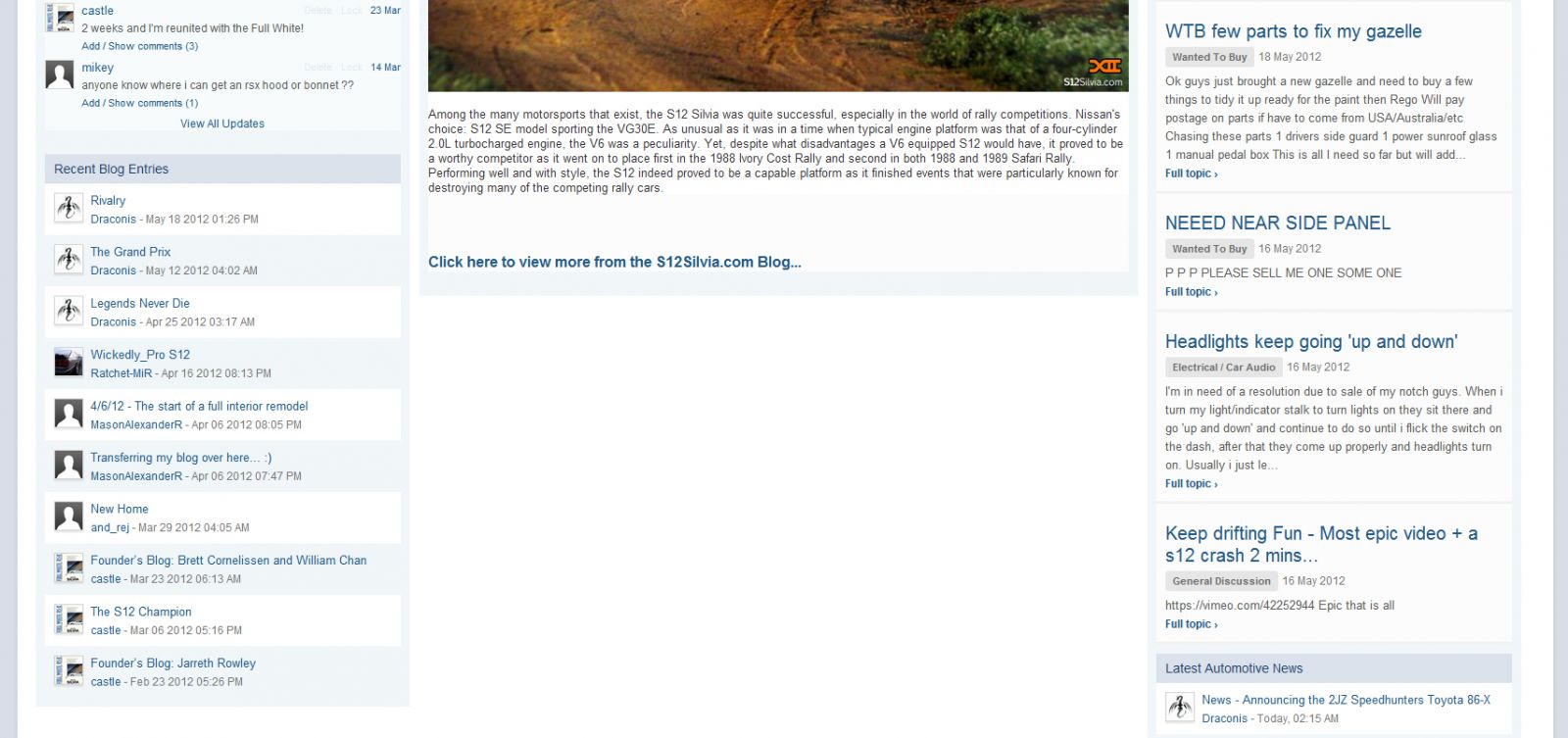 Recent Blog Entries
This is where all blogs, either posted by S12Silvia.com staff or by a member, are shown. With the titles embedded with links, one can view what members are actively blogging about and sharing with the greater S12 community.
Latest Automotive News
That is correct, automotive news. Just because we are avid S12 fans does not mean we are not aware of what is going on in the greater automotive industry. With sources ranging from varying sites and updated just about daily, this section links to topics that are of interest and can help keep every member and non-member aware of what may be going on out in the automotive world.

S12Silvia.com
This is the link where one can jump back to the front page without any issues throughout any page within the site.
Forums
This is the link where one can visit our community and read up on tech threads, build threads, motorsport threads, event threads, and the classified section.
Members
Looking for a member or wish to send someone a message directly? Well this is a directory where one can find members and interact with them based on their personal member page.
Blogs
Yes, this is where the blogs happen. But unlike before where it was just the S12Silvia.com staff that made blogs, all members can make blogs. The latest blogs are updated on S12Silvia.com's front page so that any viewer can see and link to. In addition, by sharing with us what is happening, we may be able to pull one's blog and showcase it on the front page as any of the other blog that has been published by the S12Silvia.com staff. Share what you have to say. Whether it is of a build, an event, or a car, publish your blog here for everyone to read!
Gallery
S12Silvia.com can now host your pictures. No need for hosting your pictures on external sites. S12Silvia.com has opened up its database so that everyone can share their pictures, make albums, and post directly from the site using the "Share Links" section under the Options drop down menu. So, let S12Silvia.com store your pictures so that it's in one convenient place and where other S12 enthusiasts can view as well.
Calendar
This is where one can see upcoming events and birthdays.
XII Shoutbox
With the many users from around the world, the XII Shoutbox feature allows anyone to instantly talk with others in real time. See live updates or carry a conversation with a fellow S12Silvia.com member, the XII Shoutbox is a built in instant messenger for all. In addition, the built in dialogue box on the forum is quite small and can be a bit much to talk on while following several conversations. In order to deal with this issue, we have come up with a setup that allows one to extract the XII Shoutbox into its own dialogue box separate from the Internet browser. What one can do is simply click on the "XII Shoutbox" title and a new page/tab will come up for one to view.
There is much more to come as much is in the works but everything is aimed at the user and enabling you to do more. It has been time that the S12 Community becomes a driving force in how it evolves. So do more, share more, and post more! S12Silvia.com is very much in your hands as it should be. Let the user push the S12 chassis and explore what is available both online and in a garage.