Welcome to S12Silvia.com Community
Hey there! We've noticed you are a Guest. Why not register with S12Silvia.com to take full advantage of our many features.

Like most online communities you must register to view or post in our community, but don't worry this is a simple free process that requires minimal information for you to signup. Be a part of the XII revolution by signing in or creating an account.
Start new topics and reply to others
Subscribe to topics and forums to get automatic updates
Get your own profile and make new friends
Upload images to posts or our community gallery
Customize your experience here
Click here to sign up now!
Navigation
Random Vehicle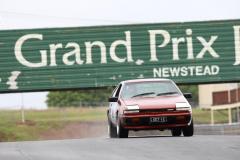 07 July 2012 - 10:29 AM

Nissan 200sx MKII XE (1987)
Vehicle Owner Jamaican_Drifta, 05 April 2014 - 05:47 AM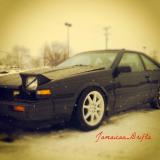 Vehicle Owner:

Jamaican_Drifta

Date Added:

05 April 2014 - 05:47 AM

Date Updated:

--

Color:

Black

Views:

885

Odometer:

137,137 Miles

Location:

Earth

Engine:

CA20E

Body Shape:

Hatchback

Rear End:

IRS (Independent Rear Suspension)
Work has been put in, rolling with S13 front conversion i.e brakes, knuckles, inner tie rods, coilovers, techno toy tuning tension rods, S13 front strut tower brace, welded diff, hydro, and more i'm forgetting.
65

Owners

78

Vehicles

26

Modifications

133

Images

88,410

Views

7

Comments
Viewing Garage

Nissan 200sx MKII XE (1987)