Welcome to S12Silvia.com Community
Hey there! We've noticed you are a Guest. Why not register with S12Silvia.com to take full advantage of our many features.

Like most online communities you must register to view or post in our community, but don't worry this is a simple free process that requires minimal information for you to signup. Be a part of the XII revolution by signing in or creating an account.
Start new topics and reply to others
Subscribe to topics and forums to get automatic updates
Get your own profile and make new friends
Upload images to posts or our community gallery
Customize your experience here
Click here to sign up now!
Navigation
Random Vehicle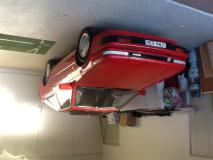 04 February 2015 - 06:08 PM

Nissan Gazelle MKI 2.0 GL (1984)
Vehicle Owner Darryn, 30 August 2012 - 11:09 PM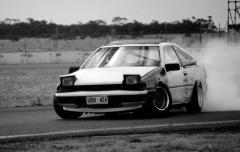 Vehicle Owner:

Darryn

Date Added:

30 August 2012 - 11:09 PM

Date Updated:

30 August 2012 - 11:40 PM

Color:

White

Views:

2,109

Odometer:

--

Location:

Scrap yard

Engine:

SR20DET

Body Shape:

Hatchback

Rear End:

SRA (Solid Rear Axle)
Bought it stock off of a friend, DD'd it for a while, started to mod it and then the mods started to go overboard. It had an engine swap and was tracked. Sadly it was crashed, with intention to repair, the damage and rust that was later found were too bad and the car was eventually scrapped.
Modifications.
Engine.
* Type x SR20DET
* T25g (14psi)
* HPI 3" stainless dump pipe
* 3" mandrel bent exhaust/de-cat + lukas muffler
* 600x250 FMIC with custom piping
* HKS earthing kit
* Turbo smart boost T
* Walbro fuel pump
Suspension/Steering - Front.
* S13 LCA
* S13 Kazama auto Caster rods
* S12 Tie rods and ends
* x2 bolt in super lock spacers
* S13 SMM modified steering knuckles
* S13 SR20 brakes
* S13 Buddy club coilovers (8Kg)
* S13 Cusco strut brace
Suspension/Steering - Rear.
* S13 Tein Shock absorbers
* Chopped Commodore springs
* Welded H190
Wheels.
Front - 14x7.5 -5 SSR reverse mesh (-30 offset inc spacers)
Rear - 15x8 -14 Hoshino racing mesh
Interior.
* Stripped with just front seats and dash left
* Bride viosIII fixed back seat on super low Bride seat rails
* Luisi 360mm steering wheel w/detatchable steering hub
* Nismo knob
* Removed handbrake spring and fitted Drift button
* Cusco bolt in half cage
65

Owners

78

Vehicles

26

Modifications

133

Images

99,605

Views

7

Comments
Viewing Garage

Nissan Gazelle MKI 2.0 GL (1984)