Welcome to S12Silvia.com Community
Hey there! We've noticed you are a Guest. Why not register with S12Silvia.com to take full advantage of our many features.

Like most online communities you must register to view or post in our community, but don't worry this is a simple free process that requires minimal information for you to signup. Be a part of the XII revolution by signing in or creating an account.
Start new topics and reply to others
Subscribe to topics and forums to get automatic updates
Get your own profile and make new friends
Upload images to posts or our community gallery
Customize your experience here
Click here to sign up now!
Navigation
Random Vehicle
03 June 2012 - 08:30 PM

Nissan Silvia MKII Twincam Turbo Full White RS-X (1987)
Vehicle Owner
castle
, 29 May 2012 - 08:20 PM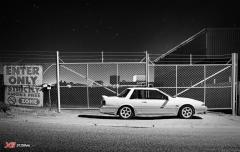 Vehicle Owner:

castle

Date Added:

29 May 2012 - 08:20 PM

Date Updated:

10 May 2013 - 05:55 PM

Color:

Full White

Views:

3,907

Odometer:

80,000 Kilometers

Location:

Adelaide, South Australia

Engine:

CA18DET

Body Shape:

Coupe

Rear End:

IRS (Independent Rear Suspension)
In 1987, nearing the end of the S12 Silvia's lifespan in Japan, Nissan announced a lineup of 3 special edition models for sale to the public. Done in a similar fashion to Toyota releasing the Black Edition Sprinter towards the end of the AE86's build life, the main objective was to boost sales before the release of the newer S13 Silvia. The forerunner of this model lineup was the Twincam Turbo Full White RS-X, which stood above the lower specced models the Full White R-X and R-X White Select.
Available in only coupe form and painted all white it differed from the standard Japanese S12 lineup which sported two-tone paint schemes. The Full White RS-X also has many subtle exterior trim differences, a black themed interior and full JBL sound system. It received the new PLASMA CA18DET power plant and was available in both manual and automatic transmissions. A Nissan press release stated their intention to build 150 Full White RS-X's, however records show that only 90 models rolled off the production line.
I purchased my Full White RS-X in November 2009 with 74,000km's on the odometer. The car had recently been imported to Australia and was in need of compliance, engineering and registration. Unfortunately it was in less that desirable shape when I bought it, with a bit of exterior damage and small amounts of rust. Luckily though the interior and engine were in great condition and the car was completely unmodified apart from a set of aftermarket wheels. This would be the perfect project car for me.
Over the last few years this car has become my restoration project, I have slowly fixed it up and gathered the necessary parts to bring it back to its former glory. I am now the first Australian registered owner of this car and as far as I know it's the only Full White RS-X in the country. I have detailed every step of my journey with this car in my extensive build thread.
Thank you.
Matt.
Click here to view my Build Thread
Current Specifications:
As of 01/05/13
Engine
P.L.A.S.M.A CA18DET
Completely factory configuration.
Suspension:
Front:
JIC 8kg Adjustable Coilovers
S13 Lower Control Arms
CAZMAN R31 Adjustable Castor Rods
S13 Turbo Calipers
DBA 5000 Disc Rotors
S13 Brake Lines
Rear:
Aurora 5kg Lowered Springs
Koni Excel-G Adjustable Shocks
Handling:
NISMO S12 Strut Brace
Wheels & Tyres:
NISMO R6
Lightweight Forged Wheels by Enkei
15x6.5" +25
Toyo R888
195/55R15
Exterior:
OEM Nissan RS-X Front Lip
OEM Nissan USDM SE Side Skirts
OEM Nissan RS-X Rear Pods
OEM Nissan MKII Silvia Wing
XII Silvia Hood Badge
Accessories:
NISMO Auto Louver Fog Lights
OEM Nissan MKI Silvia Weather Shields
OEM Nissan MKI Headlight Washer/Wipers
Interior:
NISMO Alloy/Carbon Fibre Gear Knob
NISMO Seat Belt Cushions
OEM Nissan MKI Silvia Lace Seat Covers
Napolex Broadway 300mm Convex Rear Vision Mirror
65

Owners

78

Vehicles

26

Modifications

133

Images

101,986

Views

7

Comments
Viewing Garage

Nissan Silvia MKII Twincam Turbo Full White RS-X (1987)